Semantic Image Search
Use Nyckel to find similar or matching images using our AI powered deep semantic search. Get started today for free.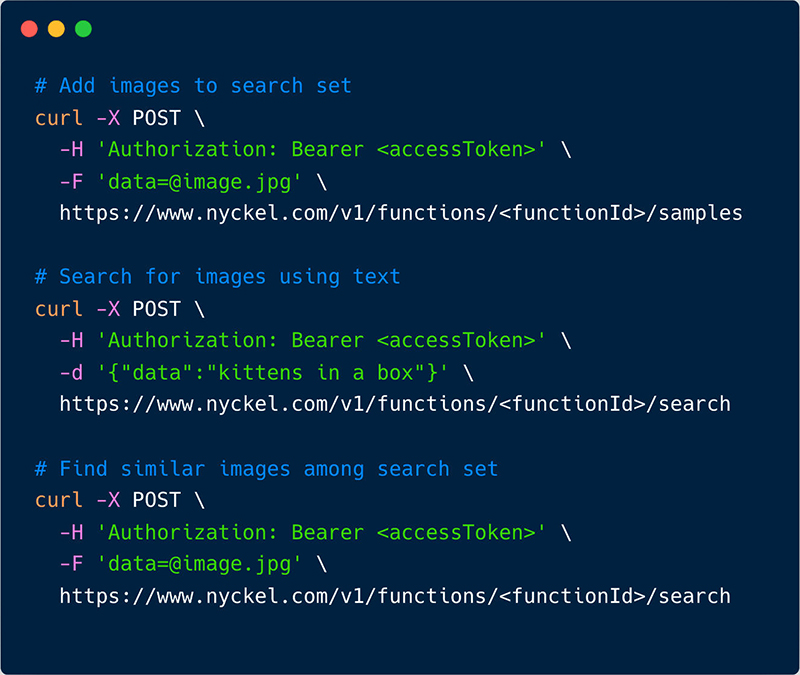 Why Nyckel?
Nyckel abstracts away all Machine Learning complexity allowing you to focus on your data and your problem.
Get started searching in 1 minute
Use our UI or API to quickly get started indexing and searching your image database.
Pricing
Not sure if Nyckel is right for you? Give it a try today!
Open sign-ups
Always-free tier
First month free
No data lock-in
Development
---
Free
max 1,000 invokes / month
---
1,000 Invokes: $0
Classification
Search
Detection
Production
---
---
1,000 Invokes: $5
1,000 Samples: $2.50
/month
Functions: 1,000
/account
Classification
Samples: 10,000
/function
Search
Samples: 1,000,000
/function
Detection
Growth
---
---
1,000 Invokes: $1
1,000 Samples: $0.50
/month
Functions: 10,000
/account
Classification
Samples: 25,000
/function
Search
Samples: 10,000,000
/function
Detection
Enterprise
---
---
Need more? Learn how we can scale with your business
Built By Industry Experts